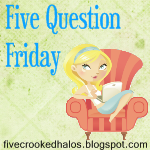 1. If you could have any talent and turn it into an occupation, what would it be?
My special talent turned occupation would be Fashion Stylist/Personal Shopper. I love clothes, shoes, accesories and I would love to be able to go put together cute outfits for other people depending on their personality, attitude, and budget. Imagine being able to go explore fun accesories with outfits, whether its for everyday, work, or even better...a fancy night out. Fabulous!! So much fun...:) And I could manage my own hours and be pretty much stress free. Unless I get a picky client. But mostly, super fun.
2. Would you rather have a house at the beach or a cabin in the woods?
Hands down a house on the beach! Where my bedroom has a wonderful roomy balcony where the sun streams in every day to wake me up and the smell of the water wafting in thru my window and the waves crashing being the backdrop noise. Pure Heaven. I would definetly want a small path leading down to the water where I would have comfy chairs and a small table set up. Along with a hammock swinging in the breeze next to my jet skis and boat. Ahh...yes. That is the dream!
3. Is there any meaning or reasoning for the names you chose for your child/children?
Why yes there is! Before Danny and I knew whether we were having a boy or girl the first time, we had both instantly fell in love with the name Hannah. Which is kind of weird now that I think about it cuz while I was dating Danny I babysat for two seperate kids whose name was Hannah...anyhoo! So Danny and I choose Hannah and for her middle name we decided to go with the name Marie after both her grandmas...my Mom and his Mom both have the middle name Marie. Perfect!
As for Kylie..well, that girl was "named" quite a few different names. We would like one name one night than the next morning we had "naming remorse" and would instantly say um, no. At one point we wrote the name "Katelyn" in her baby book but Danny and I couldn't agree on a spelling so out went that name and book! We finally thought Kylie was perfect! And it definetly fits her!! As for her middle name, she is of course named after me..Elizabeth..although I really wanted to spell it like this: Elisabeth, but cuz I am so use to spelling it the way my name is I didn't spell it right on the birth certificate..I blame it on the sleepless nights in the hospital. Oh well. But she is definetly a Mini-Me! So we have two beautiful daughters with two beautiful names: Hannah Marie and Kylie Elizabeth.
4. What is your guilty pleasure? (I know we've done this one before, but I'm guessing people's "guilty pleasures" change frequently. At least, mine do!)
Right now, my guilty pleasure is this wonderful, amazing Spiced Pumpkin Pecan Ice Cream. Oh. My. Word. It is way too good for words!! Another guilty pleasure that is not food would be going to the store alone. Oh, the little things.
5. Do you live in a house that is deep cleaned or straightened?
What is "deep cleaned"? What is that? I live with two little girls that are tornados and a boy. Does that cover that question?
For most of the time it is straightened up....although laundry is always a never ending battle, but I am working on that. And I keep it dusted, swept, vacuumed, etc regularly. That counts right?